Another beautiful morning (after a 'full-moon' night). Very little breeze and sunny and around 19 degrees when we got up, with a high of 24 forecast for the day. Sue got up and put in another load of laundry.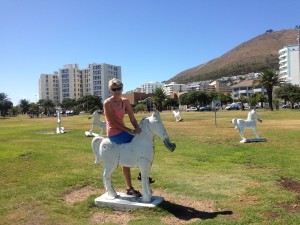 After our morning coffee and fruit it was decreed that we should go for a long walk today. And so we did. We walked out to the lighthouse and then as far southeast as we could along the promenade in Sea Point. There were paragliders, joggers, cyclings, and walkers out in full force.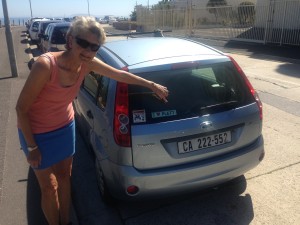 When we got to the end we turned around and walked back the same way — for a total of just about 12kms. Now that's a walk!
By the time we got back home clothes drying on the laundry rack on the balcony were all dry. And it was time for lunch!
After lunch we decided to get serious about all the movies we still have to see before the Oscars this Sunday night. The five 'Best Foreign Films' and five 'Best Documentary Feature' nominees may well be some of the best movies we'll see! I had been busy downloading but there are still a few I need to 'find'.
Considering it was early afternoon and we'd likely be able to stay awake through the movie, I decided we'd start with one of the 'Foreign' films; one with English subtitles — that would demand our full concentration. We watched 'Theeb', a film from Jordan. We had no trouble staying awake — the story took a few twists and turns and we really enjoyed it.
It was getting close to 4pm and we were expecting a Facetime call from Alex and Max. They were just eating breakfast, seemed happy, although both had lost their voice! But they said they felt much better than they sounded.
After the call we watched another foreign 'Best Feature' nominee, 'Mustang', a movie from France, which takes place in Turkey. Once again we had to follow along with the English subtitles, but again it was no problem — another gripping story.
It was 6:30, time to go for supper. We walked to the V&A. We ordered a big seafood platter for 2 and watched sailboats and seagulls as we ate our prawns, mussels, calamari, and fish dinner. After dinner we went to check out what was playing at both cinemas. We also stopped in at the big Pic'nPay department store in the basement to get a few supplies.
The sun sets at 7:30. It was still twilight as we walked home at around 8 o'clock. A bit of reading and computing and then off to bed.