After our usual fruit — oh wait! no toast today! Sue went to get chocolate croissants from Giovanni's this morning! Must be a special breakfast — oh yeah, we have a guest in our house. Jessica Dyck is staying with us until Monday morning.
Soon after breakfast we packed a few things into our overnight bag and headed out in the Volvo. Turned left at the traffic circle and pointed the car south. We went over Chapman's Peak and down across the peninsula through Simon's Town. Just past that, we saw the signs for Boulder's Beach, where we were hoping to see some penguins. We parked the car and started down the boardwalk. We saw quite a few penguins 'nesting' on the other side of the fence along our walk. But we could see that there was a spot up ahead where LOTS of people were gathered and taking photos. THAT was what we were heading for.
Before we could get there we had to pay admission at the counter in order to walk down the long boardwalk, out towards the ocean, and see the 'real' penguins. Lots of them. Waddling around. And tourists. Pose, click. Another pose, click. Selfie. Click.
After the penguins tour was checked off our list we drove the short way back into Simon's Town. Found a parking spot. Found a small restaurant. Found a table on the patio overlooking the harbour. Lunch. The girls went a did a bit of shopping while I went to check out the pier. Took a few photos of boats. Back in the car. Back on the road.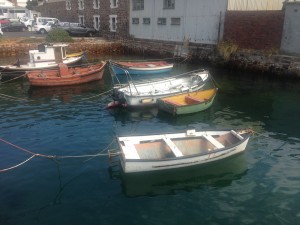 The next hour of driving was along the coast, with the ocean on our right and big sand dunes on our left. A bit of road work gave us a chance to pause every once in a while so the slower big trucks could catch up with us. We were making pretty good time and had sent Shirley in Hermanus a text letting her know that we were about half an hour away. And then we hit a "Stop and Go" that was mostly "stop". And we sat there for 15 minutes, in a long line of cars and trucks. So close, and yet so far.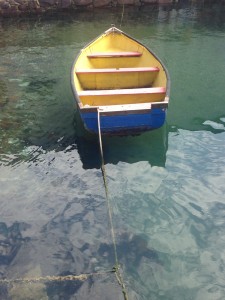 We arrived at Paul and Shirley's at around 4 o'clock. Shirley welcomed us and showed us to our rooms. Great house! Great host! Not a lot of time for us to get changed and head out to the beach for our 'low tide beach walk'. But we made it. Unfortunately for Jessica, the weather was cool and very misty, obscuring the mountain and the fynbos on our walk. But it was good to get a bit of exercise after sitting in our car for a good part of the day.
Back at the house we showered and got ready to head out to Megan and Casper's for dinner. Shirley packed a half-dozen bottles of assorted wines and we all got into her Land Rover. When we arrived at Casper's the table inside their lovely black and white (everything inside was decorated in black and white) home was all set. And another couple, Brian and Joy — neighbours of theirs, were there for supper as well. Shirley walked us down to the beach to let us see the great yard.
Unfortunately, due to the cool weather, we would not be having drinks out there at one of the several eating and braai areas. So we made our way back to the house and sat down to enjoy appetizers and wine.
Megan made several Malay dishes for the eight of us, including lamb curry with rice. We enjoyed the meal and the conversations around the table. A highlight was Jessica telling us about her less than pleasant introduction to life in Malawi when she and her roommate were visited by thieves in the middle of the night in their apartment! We also talked about the political and economic problems here in South Africa, and it was good to hear how the people who have lived here for all of their life see the prospects for the future. We helped Shirley get rid of some of her wine, tasting and offering opinions and trying different varieties with different foods to see how one enhanced the flavour of the other. Casper hauled out a couple of chocolate bars and we all thought that wine and chocolate were a very nice combination to cap off the evening.
Shirley, who had been tasting and 'spitting', drove us back to her place at around 10:30. We were all tired and went directly to bed. A good day in Hermanus.