A quick breakfast again today, and then we high-tailed it out to Santo Antonio golf course for our 9:20 am tee time. We'd been told that Thursdays could be busy, so we were prepared for a round that could be a bit slower than our last one here, which was about 3 hours. But it really didn't look very busy to us.
I was a bit unlucky right off the start: I took out my one yellow Taylormade ball, hoping that I could play and entire round with it, then smacked it too far right with my drive and couldn't find it after that. Oh well, if that's as bad as it's going to gets…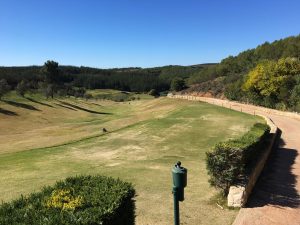 There was no one behind us at all, so we never felt any pressure. And it looked like a couple of holes ahead of us the course was wide open. So the only problem was the two groups ahead of us — they were holding us up on EVERY hole. Finally, on the eleventh hole, the guys ahead of us let us play through. Whew! at least we didn't have to watch those guys duff their shots along the fairway ahead of us anymore. That left 3 'walkers' who certainly were not in a hurry either. They held us up for another 3 or 4 holes and finally let us play through on about the 16th hole.
It was 1 o'clock by the time we were sitting on the deck with our cold post-game beers. But it had been a fun morning — not hot, but not cold either. We golfed in shirtsleeves. We've got one more game scheduled for Saturday at the same course.
We drove home. Marylou was out in town somewhere. I FaceTimed with Alex and Max for a bit. Then I went out for a fast walk to the neighbouring town and back — 90 minutes to do almost 10 kms on the rocky pathway. When I returned we had happy hour at the apartment.
At around 7:00 pm Marylou made Denver sandwiches and we had supper. Then we sat down in the living room and watched "The Florida Project" which I rented from iTunes.
At around 11:00 pm we were all done — finished our movie and our glass of port and time to go to bed.