It's been a week since we trekked (or 'tramped', as they say in New Zealand) the Tongariro Alpine Crossing. It's about time for another long hike.
We've been told that it's worthwhile for us to go see the Gannet Colony out at Cape Kidnappers, not far from us here in Napier. We didn't actually know what 'Gannets' were, but when I looked it up I discovered that they are a very interesting bird unique to this part of the world. Among other characteristics, the gannets belong to the booby family. We'd seen 'blue-footed boobies' when we went to the Galapagos Islands years ago — and I remember how they can dive-bomb deep into the ocean to catch fish. Well, the boobies here in New Zealand don't have blue feet — they are large white birds with yellowish heads and black-tipped wings — but hey, what's not to like about another 20km hike in search of 'boobies'?
(Well, actually I'd be way more excited about seeing one of the world's great golf courses up on top of the cliffs at Cape Kidnappers, but so far I haven't convinced Sue that it's worth the $480 it costs to hook and slice a bunch of golf balls into the ocean from up there!)
There are a couple of ways to go see the gannets at Cape Kidnappers. You can have a van pick you up and take you to one of the two colonies where you can get up close and personal with the birds and someone will tell you all about them ($80/person). Or you can join a tractor and trailer tour where guides take you along the beach ($44/person). Or you can skip the morning workout at the gym and pack a lunch and WALK along the beach to see the birds (FREE). Of course we picked option three.
The trick is to make sure you know when high and low tides are, in order to keep the 'swimming in the big waves of the ocean' part to a minimum. Low tide today is at 12:15. We drove out to the parking lot at the Clifton Cafe, the starting point for our hike, at 9:30. The tractors and trailers were just lining up. One trailer skipped the line-up and headed straight for a large group of Japanese tourists. They must have ordered the exclusive 'premium' package. Wearing their 'dust masks' and clutching their big gold purses, they hopped aboard the 'hay-rack', popped open their sun umbrellas, and started off on their drive along the beach about 20 minutes ahead of the 'regular' caravan. Sue bought a bottle of water to go with our sandwiches, and we set off on our walk. It was ten o'clock. We needed to be back by 4, before the incoming tide would cover the beach.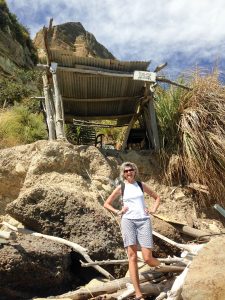 It was (another) gorgeous day. We met a few walkers on the way, but really it was a beautiful quiet walk along the beach for us. Shorts and sandals. Mostly sand, but occasionally we had to climb over a rocky outcropping. Big cliffs towering up beside us (somewhere way up there some rich Japanese men are enjoying a golf game while their wives and children are bouncing along on a hayride far below!)
And sure enough, we were only a few miles along the trip when the first of 3 tractor/trailers putted up behind us and passed us. We'd pass THEM a while later, when they stopped so the three drivers/guides would have to take their pick axes and 'chop' up some big boulders that had washed ashore and made the way impassable.
The tractor tour came upon the first colony of gannets at a point about 7kms into our walk — a couple of big stony 'islands' COVERED with the white birds. (Even more boobies than you'd ever see at the topless pool in Veradero, Cuba!) We got quite close to the birds and even saw nests with the 'fuzzy' baby gannets still sitting next to their mothers. We snapped a bunch of photos. We were just heading around the point when we heard the tractors coming up behind us again. We let them pass. They went ahead for a short distance, then parked as a group at a National Park entrance that led up to a second colony of gannets. That's as far as the tractor tour would go.
But not the Nikkel tour! No, we don't turn around until we've gone at least TEN kilometres! We continued on, heading to the next point out in the distance. The last three kilometres were a little trickier than what we'd done so far. Now we had to clamber over BIG rocks, sometimes slippery rocks, and jump from one to the next. Sue had had enough — her knee was hurting and she decided to sit and rest while I went the last bit to the point. When I got there it really was as far as I could go — I looked down from the top of the ledge I was on and spotted a big fat seal lying on the rock below, warming up in the hot noonday sun. I yelled and clapped my hands, trying to convince him to put on a show for the camera but he was all out of tricks. I turned around and headed back to join Sue for lunch: sandwiches and water — 'on the rocks'. And then it was time to retrace our steps — not that we really could; the waves had erased them from the sand.
We passed the tractor tour — they were still parked at the Park entrance. The last mile or two we were hot and tired and thirsty and the wet sand in my sandal had created a blister on one of my feet. We got back to the parking lot just as the tractors caught up to us.
On the short drive home we passed through the small village of Clive and stopped for an ice cream cone. As we sat at a table in the cafe patio under the shade of overhead grape vines, the nice lady at the counter sent us each a plate with freshly-baked scones with dates and butter — no charge. What a treat!
Back at the ranch, we showered and had a drink. Sue had emailed our hosts, inviting them to join us for happy hour. Instead, Graeme invited us to come over and sit at THEIR table. We had a lovely visit. At around 7pm Graeme and Robyn suggest we join them for dinner. Or, how about we go out for pizza? (It IS Friday, after all.) So we all went across the road to the Italian pizza restaurant and had supper out on the deck, watching the people on the beach and the fancy luxury and old restored cars 'cruising the drag'.
Back at Graeme's we had double espresso coffees and dark chocolate before saying goodnight and heading back to our apartment for the night. Tired and content, we'd earned a good night's rest.