This morning we walked down to 'Eggs 'n Things' for breakfast. We joined a large group of hungry (mostly Japanese) tourists sitting at outdoor tables, waiting to be seated in the restaurant. After an over an hour wait we directed to our upstairs table where we enjoyed another great breakfast. After breakfast we took the shuttle back to the Aston Hotel, then started hiking up the road to the entrance to the Diamond Head Trail. Max was even less enthusiastic about walking than Tim was; Tim and I took turns carrying him on our shoulders. Once we got on the trail we continued going up until we entered the actual 'punch bowl' of the volcano. Tim paid the $1 entry fee for each of us.
We continued along the trail. We were not alone. About 45,260 tourists had the same idea at exactly the same time. The hike up the trail was the easy part – it was the jostling and navigating through the maze of other hikers that was the hard part. And Max wasn't having any fun at all. We were three quarters of the way up when Alex decided they'd had enough. Sue and I carried on. Then came the steep part – including the long climb up the stairs carved into the rock, through tunnels and along the ridge, until we finally got to the top of the lookout that is at the top of Diamond Head. A quick photo. More jostling and squeezing our way through and around other iphone-camera-toting tourists. And that was it! We were heading back down. All the way Sue and I kept a lookout for our kids. We hurried all the way back down to the entry gate without encountering them. Sue thought they might have taken a taxi back to the hotel. No, I don't think so. And then, not more than 20 minutes later, there they were, coming down the trail. They too had gone to the top of Diamond Head, even seen us at the top, they were not far behind us. Okay, enough hiking. Tim hailed an Uber taxi for the group. A few minutes later we were back in our hotel room, tired, hot, but happy.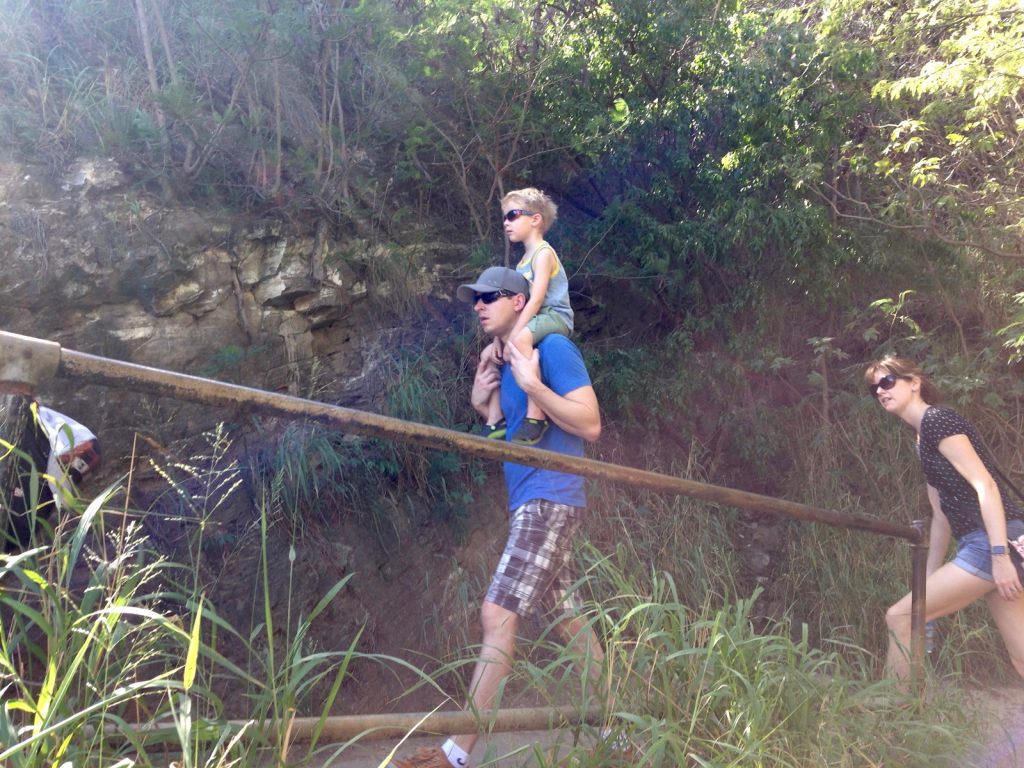 After a relaxing afternoon (and another great happy hour in the hotel room), we headed out for supper. Tim had made a reservation for us at the Hula Grill, a fancy restaurant at the Outrigger Waikiki. We ended up waiting for an hour before a table opened up for us! I'd been fighting a terrible head cold ever since we arrived in Hawaii, but even that couldn't spoil the evening as we sat outside on the balcony overlooking the hotel pool and the beach. Great food and great views and great times with the family.