I guess 'Free Hot Breakfast' is also subject to interpretation. Luckily the egg mcmuffin and one-dollar coffee at the nearby McDonald's drive-thru were less disappointing. The overnight temperature was just above freezing, but it would be another great day for driving. With both me and my van freshly washed, clean and shiny, and fuelled up, we hit the road. Straight south. All day. Straight down to Oklahoma City. That's about the same latitude as Albuquerque and only a little farther north than Phoenix so it should be nice and warm.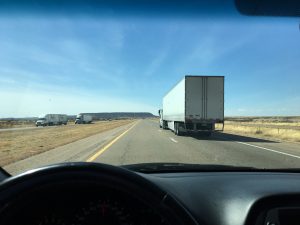 After another 8-hour day of open roads and lots of great (loud) music from the random playlist on my old iPod that's hooked up to my car stereo, I arrived at the (ten dollar pricier than last night's hotel) 'Broadway Inn & Suites' Best Western in Oklahoma City. It took only three false starts for me to find a satisfactory room (with a working lightbulb in the bathroom) before I opened up my backpack and logged onto the hotel wifi. I was a little hoarse from singing all day and very hungry from not having eaten a decent meal for a couple of days. And I needed to stretch my legs. The little (thin) East Indian guy behind the front desk showed me on his phone how to get to the nearest cineplex where I would find restaurants and movies to help me while away the evening. Only about 2 miles from the hotel — I would walk. Walk? No, much too far. Yes, walk. I need the exercise. Is it safe for me to walk back in the dark later? Oh yes. I checked the movie listings and picked the one that sounded least like the typical big 'blow-em-up' sound and fury blockbuster of the lot. And then I headed out.
The movie wasn't much more interesting than the fish burger I had before it. In fact, since I'm writing this a nearly a week later, I've actually forgotten both. But the walk was great. Sure, it's a little unnerving to walk back in the dark in a strange city on an unlit sidewalk for a brisk 45-minutes, but it feels so good when you get back to your 'Broadway' suite safe and sound.