For as little as we did yesterday, we made up for it today! Our morning started off as usual: bakery, coffee, fruit, reading. We spent quite a bit of time looking online at winter options in Florida. Nothing great (yet). We'd decided to visit the Louvre today because it's open late on Friday and we always start late anyway. And so, after lunch, and even though at least 3 out of 4 of Sue's weather apps on the iPad were forecasting rain, we packed up our little backpack with jackets and umbrellas and walked down to the Louvre.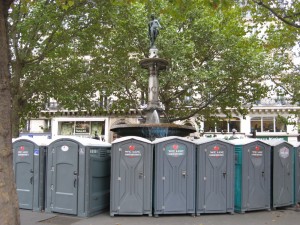 Our walk down took half an hour. We walked down a few streets that we'd not walked along before and discovered a sort of 'chinatown' area with lots of asian restaurants, something we'd not seen a lot of around our neighbourhood. We also passed this big square with a fountain surrounded by 'porta-potties' — I guess they just got tired of having people piss in the fountain so they just put up toilets all around it!
We'd done a bit of research about how best to visit the Louvre. We decided that instead of trying to see EVERYTHING in one day (well, the second half of the day in our case!) we should make a 'top ten' list and get a map and plan to see the highlights. Online guides said it was impossible to do it justice in only a few hours. They also advised visitors to NOT use the main entrance, where we'd have to stand in line for hours just waiting to buy tickets. But when we got to the glass pyramid entrance, the line was quite short and moving along steadily. So we bought our tickets there and went inside. We got our map and Sue ticked off the things we should see. And off we went.
The museum certainly is a big place, with 4 floors and many, many hallways and rooms. It's easy to get lost. The good thing is that even if you get lost you will likely still see all kinds of great art and sculpture that will either be of the 'naked' variety or remind you of the pictures they used to have posted up around the classrooms in Sunday School. So 'lost' is really a relative term.
It didn't actually take us all that long to check off our list! Surprisingly, the museum wasn't all that crowded on this Friday afternoon. Sure, you could always figure out when you were getting close to one of the 'significant' works of art because there would be a group of people (and often one or two guides) huddled around it. And the museum has things laid out so that all the major pieces are spread out throughout the museum, a bit like the TV cable packages — you can't just quickly pick and choose the good ones and not pay for the ones you don't want.
You can actually see all of these things way better by looking at some of the many online versions (or those posters in Sunday School) but hey, we're here, and I have to snap some photos (just like everyone else is) just to prove I was here. Too bad we're not allowed to use flash — I don't think that our handy-dandy little smile-saver can take pictures in the dark without a flash. Well, maybe my friend Jim Peters could set the ISO properly and hold the camera steady enough not to come back with a SD card filled with blurry grainy masterpieces, but not I. Still, I had to try. So here's a little gallery of some of the photos I managed to salvage:
And, of course, the most famous painting of them all, the Mona Lisa. Dave Driedger, who apparently went to the Louvre to try to decipher the DaVinci Code, warned me that the Mona Lisa was much smaller in real than what he had imagined. I guess beauty is in the eye of the beholder, because when I finally muscled my way through the crowd of iPhoners to get my own photo, to me she looked a bit 'chubby'.
So after spending about 4 hours at the Louvre, including a short 'coffee break' at a cafe under the glass pyramid, we'd seen just about everything! In fact, we saw quite a few displays twice and some even THREE times! (Even with a map, it's easy to get a bit disoriented and end up going up and down the same hallway several times before you realize this really is the same statue we saw earlier!) On our way out of the museum we walked past an upside-down glass pyramid. This was the famous "La Pyramide Inversée" at the Carrousel du Louvre. And there, right in front of me, was another Apple Store, the first one in Paris. And next to the Apple Store were a few very high-end purse-and-shoe stores. I took a photo of one of them, Lancel, which had an enormous chandelier hanging inside the store. While Sue amused herself by going in to talk to the saleslady, I checked out the prices of a couple of purses in the window: that's just over $2700 for the black and white purse, $2600 for the red 'fake crocodile' purses, and the black purses on sale for half price! Alex would love this!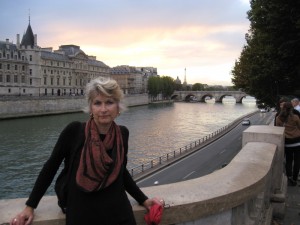 We escaped without taking the credit card out of Sue's backpack. Not so for the umbrella, though. Just as we were about to cross the bridge on the Seine River, a light shower began. Well, how about those forecasters! See? Some of them WERE right! The sprinkles lasted only as long as it took us to find our umbrellas and figure out how to open them. (It took us a bit longer to find out how to close them again!) And then it was time for a nice romantic walk along the Seine, just like in the movies. It was fabulous. Hardly any people out on a Friday night in Paris! A beautiful sunset. Riverboats all lit up with fancy dining rooms and dance music. Lovers and tourists sitting on sidewalk benches and sharing a bottle of wine (or a couple of big cans of beer).
We made our way over one of the bridges to ÃŽle de la Cité (one of the 2 islands in the Seine) and headed back to the Notre Dame Cathedral. Sue wanted to see it at night when it gets all lit up. We sat in the big temporary 'bleachers' in front of the church and watched the sunset and the street entertainers in front of the church. By 8:00pm it was dark outside, the church was lit up, and it was time to find a place for supper. We walked around the back of the church and across the bridge to the other island.
This is Paris, so that means there's at least one brassiere or restaurant at every corner, and usually there are four. So we looked at a few menus and then sort of picked one at random where there was an open table outside on the sidewalk. We could sit here and watch people and still see the boats going under the bridge along the Seine. All that was missing was the accordion music! We ordered foie gras for a starter and shared a big pot of steamed mussels and homemade french fries for our meal. Yummy! Crazy-good. Sitting outside at a little restaurant in Paris on a Friday night in October, no jackets, no umbrellas, eating foie gras and watching the boats go by!
After sitting for an hour and eating a nice meal, we felt refreshed and decided we would WALK back home instead of taking the metro. We walked back across the bridge and down along the river, past the Louvre, past the now packed Chinese restaurants, past the bars with people literally spilling out onto the streets. (So THAT'S where all the people go on a Friday night.) My poor tired feet! I have a new appreciation for the Camino de Santiago pilgrimage that our friends Ed'n'Millie did this summer! I've walked so much here that when I got home tonight my nice new socks were WORN THROUGH! Shot! Holes in the toes and heels! When I get up in the morning it takes me the entire walk to the bakery and back just to get the balls of my feet loosened up enough so I don't have to walk bow-legged. We figured we walked about 15 kms today. And the Hildebrands did TWICE that, every day for more than 2 weeks! YIKES!
When we got home we pulled off our shoes, got into our sweats, poured ourselves another glass, and sat down to watch another French movie. (Tonight's feature was "Les Quatre Cents Coups", a French 'classic' from 1959.) I managed to stay up long enough to enjoy a dish of chocolate ice cream, but I must have had too much excitement today to last until the end of the movie. Zzz-z-z-z-z.