After staying up way too late last night to watch the first of two NFL playoff games, I slept in this morning — woke up at around 11. It was already HOT outside. I guess we're not going for one of those all-day City Bus rides with the open upper deck today! Too hot, and too late! I check NFL.com to see what happened in the late game (and I mean LATE! I would have had to stay up until 7 this morning to finish watching it). Well, looks like I missed a dandy. Aaron Rodgers throws another Hail Mary to get the Packers into overtime. And then Larry Fitzgerald, who's been a standout all game, wins for the Cardinals in OT. I know — I watched all the highlights twice!
After coffees and breakfast we sat around and read. We finally closed all the doors and turned on the AC. Had a very late lunch. Didn't really feel like doing anything that involved moving around in the heat. (A quick look at my 'notifications' shows that there's nothing up on our calendar, that we're 8 hours AHEAD of Winnipeg, and that we're more than SIXTY degrees warmer than Steinbach!) So what should we do? How about going to a movie? It'll be cool in the theatre, it's not far to walk, and it would be a shame to just sit in our apartment all day. What's playing?
And that's when I discovered that there are TWO movie theatres in the V&A Mall, down near the harbour. I knew about the 'big' one, but there's a second smaller 'independent' theatre that's NOT showing Star Wars right now. So just before 5pm we headed out to the mall.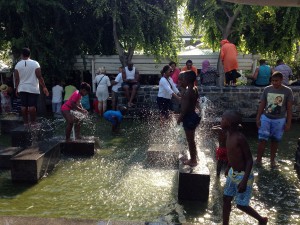 When we got there we heard live music, and saw lots of people enjoying the afternoon. Kids were splashing around in the fountains, the big ferris wheel was doing its best to keep up with the line-ups, and everyone was sitting under big umbrellas at all the indoor and outdoor bars and restaurants.
We bought our tickets to see "The Lady in the Van", a British comedy-drama starring Maggie Smith as an eccentric homeless woman. It was a little slow, but quite good. And when we got out of the movie at around 7:30 the action outside the mall was still going strong and the sky was not yet dark.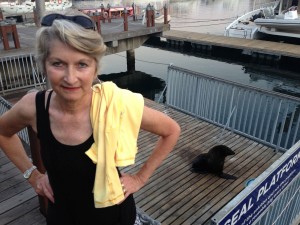 We walked back towards our place, but did a little loop around the harbour first — and found a few places that brought back memories of the month we stayed here in 2002 and came down to the harbour (to look for our boat).
Back on Main Road, near our place, we stopped at a restaurant and had supper. Then back up to our room.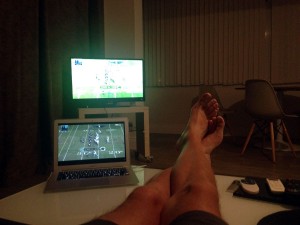 It was around 9:30pm. I wanted to watch at least the first of this afternoon's football games — the first one, which starts at 12 noon back home, started at 8pm here. By the time I found a live feed on my computer, the first half was nearly over. Really? 31-0 for the Panthers and it was still the first half? Yikes! This is going to be a blow-out!
Well, I should have known better. Sue always says that if Rudy cheers for a team they are sure to lose (and it's a good thing I'm a good loser, because more often than not that is true — yesterday the Chiefs, whom I was cheering for, lost. Then I missed the next game, and 'my' team won (just barely). Now, as I got myself all connected up and comfortable to watch the Panthers blow out the Seahawks in the second half — 'my' team doesn't score another point and the Seahawks score 24 points and nearly upset Carolina. Whew!
And now one in the morning and I need to get up early for our 8 o'clock golf game tomorrow. So I'll skip watching the Steelers-Broncos game. Both teams are probably breathing a sigh of relief knowing I'm not cheering for either of them!