That's about 4 hours north of Hamilton, where we were last night. We're on our last week in New Zealand.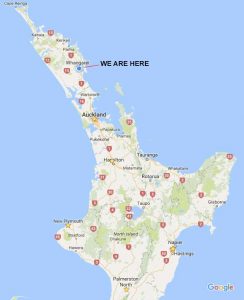 After we'd eaten our scrambled eggs for breakfast, we packed all our stuff again and loaded it into the car. Then we said goodbye to our hosts, David and Cherie, and off we were.
The trip up to Whangarei followed New Zealand's main highway, Hwy #1, through Auckland and on up to the Northlands of the North Island. We were booked into an AirBnB in Onerahi, a small suburb of Whangarei, on the west coast of the island.
We planned to stop for fuel and lunch in Auckland, not quite halfway through our trip. Well, that turned out to be a mistake. The exit lanes from the #1 Highway were queued up for miles. I think there was a HUGE Maori festival and celebration happening right where we had turned off the freeway. So now we were crawling, 3 cars at a time, through intersections with far-too-short turning lane lights. So we wasted at least an hour getting off the main highway, and then another half hour waiting for a cheeseburger at a McDonald's! And then I couldn't find a gas station, so we ended up getting back on that busy freeway, and heading north through Auckland and finally pulling over for fuel once we were well past the city.
We got to our B&B at around 3:30. Our hosts, "Kayvn" (that's "Kevin" with a heavy Kiwi accent) and Marion were happy to see us. Marion had baked fresh blueberry muffins and a date loaf for us. And the fridge in the apartment was stocked with all kinds of goodies.
We poured ourselves a 'happy hour' drink and sat at the patio table outside. Our hosts soon joined us and we visited for about an hour. Lots of laughs and good stories. Marion suggested a walk we might take around the peninsula, so that's what Sue and I did. We got back to our apartment about an hour later. And instead of heading into the town centre, we decided we'd have 'supper' right here at our patio table. Sue warmed up the leftover pizza for me and she had some fresh bread with cheese and grapes and a glass of wine. We watched the sunset as we finished our meal.
By 9 o'clock Sue had packed it in — she'd had another sleepless night last night. I looked at a couple of tourist brochures, scouting out possible hikes for tomorrow. Then I wrote my journal and watched a little TV before going to sleep.