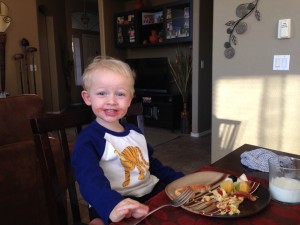 Bacon and eggs this morning! and sausages too! Saturday morning at the Nikkel house.
After breakfast Sue and Alex went for a walk. Max and I went out soon after to watch the garbage truck come around and empty all the garbage cans which were sitting at the end of each driveway. Very noisy. Very interesting. And then Max got on his Strider bike and we 'cycled' around the block, looking for interesting cactuses and maybe even some barking dogs or meowing cats. Found a few. We ended up heading up the big hill because Max wanted to see that big (Chinese stone) statue that one of the homes has guarding the front door. And if we see a reindeer that's "moving his head around" that's a bonus. We got to the top of the hill and headed back down. But Max is easily distracted — his curiosity keeps him from going in a straight line. So it took us a while to make it down. And by the time we got back to the house the others were waiting (anxiously, impatiently) because now I was going to risk being late for our tee time at Mountain Brook for twelve noon.
The girls dropped Tim and me off at the course — and then went to shop groceries and back home for naps while Tim and I slaved away at the course. The weather was quite cool (we actually covered our bougainvillea bushes with sheets for the night to keep them from freezing) but the sun was shining and as long as we were out of the breeze it was pleasant. We were joined by Shawn, a chiropractor from Phoenix, who was clearly a better golfer than the two of us. He teed off from the black tees, and then we two teed off from the whites. I started off okay but was a little embarrassed when on Hole 2 my tee shot dribbled off the tees into the scrub ahead of us. I re-shot my tee shot and scored a 6 on that par 3. Not a great beginning! But I hung in there and concluded the front nine with three pars in a row! A 43 on the par 35 front nine. My best nine holes this winter! This won't hold up!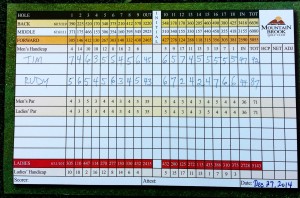 After a beverage break we continued on the back nine. Once again my start was less than auspicious — a six followed by a seven. But there followed a TWO on a par 3, then a par, then another TWO on the next par 3, and then another par. And when all was said and done I finished with 44 on the back nine, for a total of 87! I BROKE 90! And looking at my scores for the last couple of weeks, I've not even broken a hundred more than a couple of times!
The girls and Max were waiting for us in the van in the parking lot when we finished our game — great timing! We drove back home and had happy hour and appetizers. Then Max and I went to Walgreen's to pick up a DVD rental while the rest of the team worked on getting supper ready. Pasta and barbecued shrimp. Yummy. We all ate heartily. All that excitement (and sunshine and wind) sure works up an appetite.
After supper Max and I did a puzzle. The others cleaned up supper and played on their devices. After Max was tucked in we had a Skype call from the Penner family — live from their celebrations at Mart and Virlon's house. And then it was time for night snack!
A little after nine we finally got that DVD going. Let's see if we can stay awake for a good part of it!