We had another lazy morning at home. The temperature was supposed to be about 30 degrees, but it was cloudy and a bit windy outside so it really didn't feel that hot. I was on the computer and Sue was on her iPad until lunch time. The forecast is for rain tomorrow so we 'booked' an afternoon matinee at the little Globe theatre across the road from us for tomorrow. We skyped with my parents for a bit.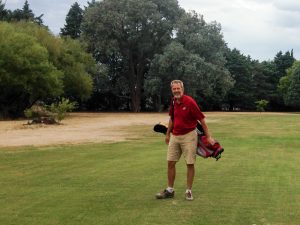 In the afternoon we hopped into the car and went for a drive down to Hastings again. What a nice drive, through valleys of orchards and vineyards. We went to the Hawke's Bay Golf Course and signed in for another 18 holes of golf. At first the lady at the desk said it would be $85 for the round. Really? Is that a 'twilight' rate? Well, unless you want to buy a 'package'. How much is that? A hundred dollars for 5 rounds. Crazy! How does that make any sense? We bought the package!
Once again, we had a great afternoon. The weather conditions were perfect — cloudy, not too hot, and the big mature trees that lined each fairway protected us from the wind so that we had only a light breeze. For a couple of holes we had a few raindrops, but that ended quickly too.
After our round we went back to the clubhouse and bought a couple of draughts and visited with some of the local golfers who were sitting at tables outside under the shade of a couple of big trees. They seem quite pleased to have Canadian tourists enjoying their course. They told us a little about the long weekend coming up — Monday is Waitangi Day, a national holiday here in New Zealand, similar to our Canada Day. On that day back in 1840, the British and the Maori aboriginals signed a treaty that gave the Maori rights to their land and rights as British citizens. The golfers invited us to join them for their annual 'Ebony and Ivory' tournament — it would be the 'English' versus the 'Maori'. It was interesting to see friendly banter that went on between some of the 'white' and Maori golfers sitting at the table. The relationship between cultures is quite different here compared to that of whites and aboriginals at home.
We drove back to Napier, looking for a place to have supper. We parked in the downtown area and ended up back at the Rose Irish Pub. And just like when we were there with the Funks, it was Quiz Night! Sue and I had supper and played along for 3 of the 6 rounds. We were clearly not going win the $50 bar tab tonight. As we headed back to our car we were treated to a beautiful red sky — what do they say? "Red sky at night, sailors' delight." Well, the sailors will be very happy tomorrow!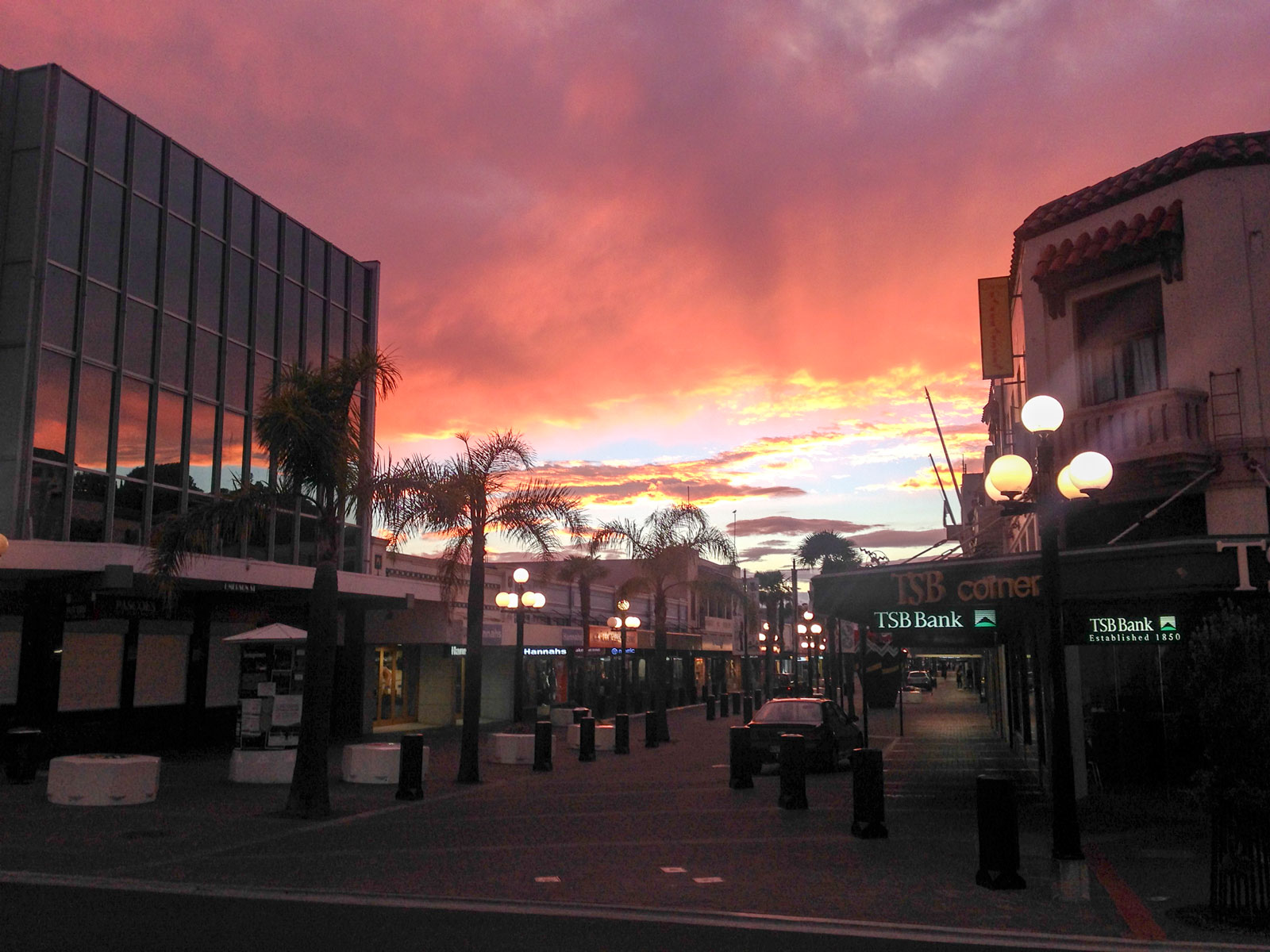 Back at the apartment, I tried to find something better than 'Home Renovations' on TV. Sue read. Then we went to bed.