As per our earlier arrangement, this morning I'm expecting Eric and Anne Froese and some of Anne's "jeschwister" to join me for a hike up to the 'heiroglphics' on Superstition Mountain. The Enns sisters and their spouses book suites in Tempe for a few months every winter.
It's ten o'clock and the doorbell rings. Nettie and her husband Mark arrive. Earl and Mary and Eric and Anne arrive a few minutes later. We have a quick house tour and then we're off. Earl and Mark will not be hiking; they will idle around the area for the next few hours, "house-shopping", while the rest of us get a bit of exercise.
We pile into my van and drive up to the parking lot at the trail head. The forecast for today was for HOT weather, but there are clouds and a gentle breeze so it's really quite comfortable. We gather an assortment of water bottles and walking sticks and go through the iron gate at the entrance. I'm not surprised that the biggest challenge today will not be the walk; the biggest challenge will be to avoid serious collisions with the hundreds of like-minded tourists on the trail. It's high season here in sun country.
The wide path and gentle incline make for a relatively easy hike, and as we set off it is soon apparent that I will talk more than walk today. A captive audience. I really haven't visited with these 'cousins' for a very long time and I do my best to make up for lost time today!
It's a bit tricky picking a level of difficulty for a group you don't really know very well. I'm am assured that the trail and the pace is okay, but not all of them are quite as keen by the time we reach the last section where the path narrows and the incline increases. Some of them decide to take a break and wait for a couple of us while we go to the 'end' of the trail.
Nettie and I keep going. It's just a short climb and we're there. And who do I see standing next to the slimey pools of water up here? Hey, that's Hans and Ken! I join them for a couple of photos.
Nettie and I are just about to descend when Anne comes around the bend. She too is going to see those 'heiroglyphs'! We take a few more minutes and then the three of us return to where Mary and Eric are waiting for us. Back down we go. The sun is warmer now. Must drink water or we'll suffer later.
Earl and Mark are waiting for us at the Jack-in-the-Box near Basha's, where we have agreed to meet for lunch at around 12:30. We are going to be a bit late. The wait is too long for Mark; he has decided to go back to the condo and look after their pet dog. Mary texts Earl that we will be a bit late.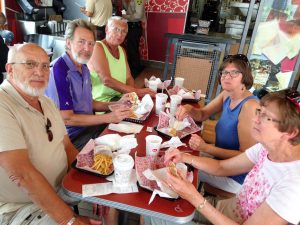 We get to the restaurant about 20 minutes late. No problem, says Earl. He buys lunch and we push two tables together so we can sit as a group. The visit continues well past lunch. It's happy hour by the time we say goodbye and head back to our respective homes.
Back home I cut up an apple and sit down to work on my blog. SERIOUSLY. Gonna bring it right up-to-date today. And I do.
For supper I have the leftover pizza in the fridge. I'll have some of that cherry ice cream for a 'night snack'. I watch a bit of Trumpy news. I flick through the channels and end the day with Colbert and Kimmel.