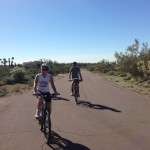 This morning the four of us did a bit of cycling. First we went back behind our place, on a short ride through the "Deerfield" area of Gold Canyon. We continued on around "our loop" all the way to Bashas, where Ed treated us to doughnuts and coffee. That helped give us the energy to cycle back UP the hill on the way back to our house.
We'd invited Dave and Marylou, and Dave's brother Paul and his wife Shirley (who have a condo in Scottsdale), to come to our house for supper. The Hildebrands and the Driedgers all grew up in Leamington and are friends from way back. After lunch Sue and Millie got their grocery list organized and headed back to Bashas. Ed and I took a drive out to the 'TotalWine' store in Santan. We went for a little stroll around the shopping village, and peeked into the Apple Store too. By the time we'd driven back home, the girls had packed away the groceries and Millie had baked a couple of apple pies. We were ready for our company.
We were sitting in our backyard, enjoying our happy hour, when Dave called. Paul and Shirley had missed a turn on the drive down from Scottsdale and would be delayed a bit. So it was around 5:30 when the Driedger clan arrived. Dave had made a big pot of chilli and Shirley brought a salad. We all sat in the backyard and had some crackers and guacamole and visited. I turned on the propane heater (the first time we've used it) and we managed to sit outside in the cool of the evening until it was time for supper at around 7pm.
The eight of us squeezed around our little dining table and enjoyed the dinner and the company. We'd just finished our dessert (pie with ice cream and coffee) when the doorbell rang. It was Joel, Karen, and little Henri! Dave and Marylou's kids and grandson have been staying with Dave and Marylou for the past week and a half. The three of them had been out for the day, visiting friends in Scottsdale, but made it back here in time for them to see Joel's uncle and aunt and to give us a chance to Henri, who will be 3 years old in April. It was great to see them.
By around 9pm the party was over. We cleaned up the dishes and sat around in the living room until around eleven. Then to bed.