You shall make the robe of the ephod all of blue. Exodus 28:31
Thursday. Ken and Kaaren arrived at our place just before 8 o'clock. It would be Ken's last golf game here in Merida. They are leaving early Saturday for Cancun and home to Winnipeg from there on Sunday.
Kaaren and MaryLou spent the morning visiting while the men went golfing. When we got to the course we were informed that there was a women's final championship happening on the front nine, so we would be playing the back nine today. So that's what we did — and we played the back nine twice. The temperature was moderated a bit by some occasional clouds and a very nice breeze, so it wasn't until the last few holes the second time around that the heat started to slow us down a bit. And if any of us was hoping that after a month of fairly regular play we'd be improving like crazy — well, that isn't really happening. Some good holes, some disappointments. Golf is like that.
The girls were already on the patio, enjoying gin and tonics, when we got back to the clubhouse. Dave and I stashed our clubs in the storage shed. Ken would be taking his clubs back to his place in Merida. We joined the girls and rehydrated. We ordered our food and had a nice visit in the shade under a big noisy fan.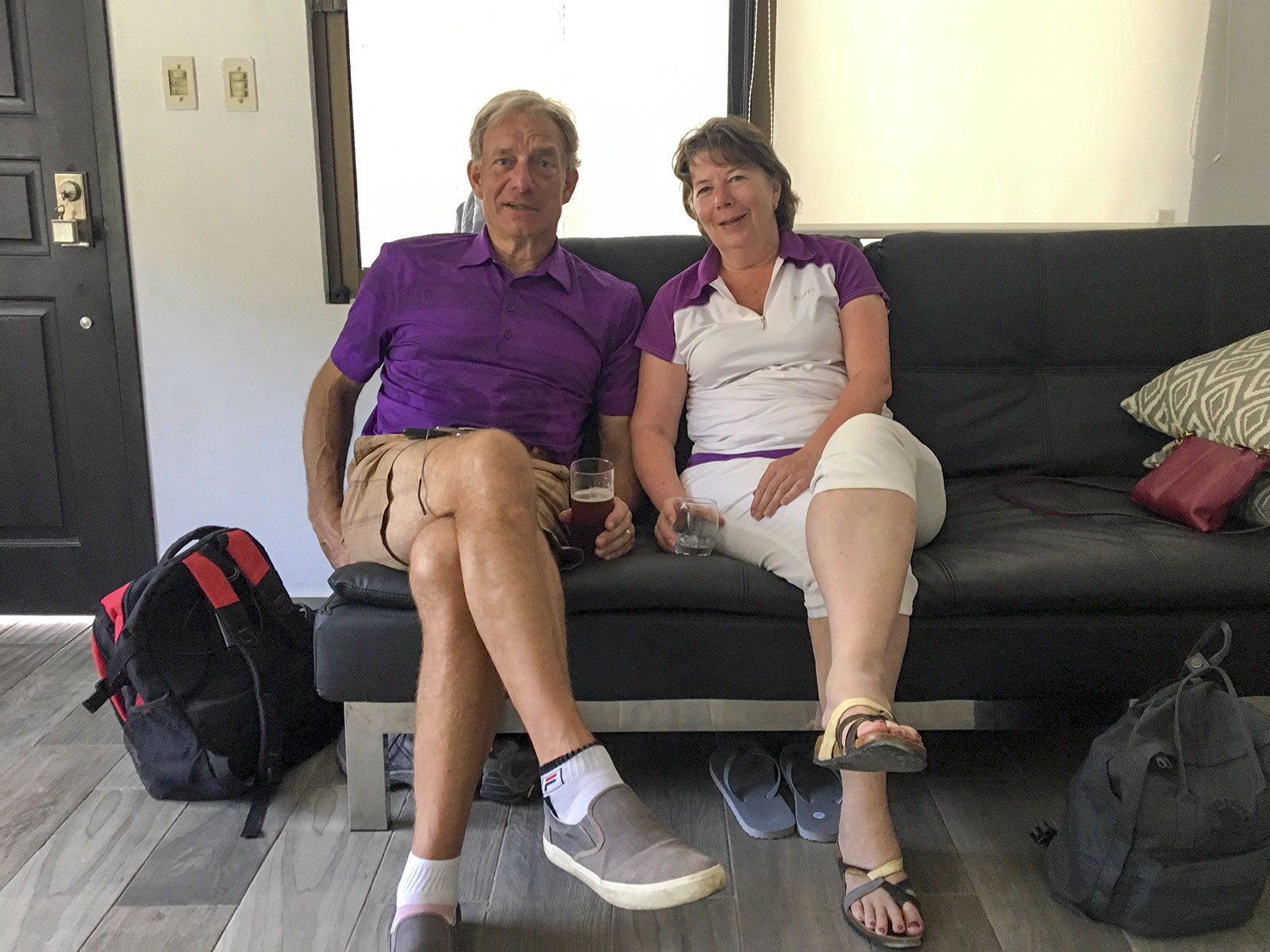 After lunch we went back to our place. The Neufelds ordered an Uber to come and pick them up, including Ken's golf bag, to take them back to their place.
I'd had a few interesting text messages from Mario, the guy we rent our apartment from. Apparently someone is interested in buying 'our' place. Yesterday a car with three women pulled up and asked us how long we were renting it for, and that the place was for sale, but that they were having trouble connecting with Mario. So I had arranged that the real estate agent could have access to the place to show it to them today from 11:00 to 1:00, while we were out for lunch. Now as we took a look around our place, it didn't look as though anyone had been here. I went upstairs to shower — and of course THAT is when the real estate lady and her client showed up! Dave invited them in, but explained that the upstairs bathroom was occupied. But the house-shopper didn't even go upstairs — she came in, walked into our little kitchen, took a look around the place and left about a minute later! Hmmm…
Around 4pm we had happy hour and watched the third episode of 'That Marvellous Marla Maples', or whatever the title of the series we're watching is. Then it was time to walk to the mini-super and get an Uber to take us into town.
We arrived at Ken and Kaaren's just before seven. From there, the five of us walked half a block to the corner bar, Cantina El Dzalbay, where tonight was 'Noche de Blues' featuring a band called Bad Whiskey. Should be good. We wanted to get there early enough to get a table downstairs where we could see and hear the band.
The band turned out to be two Mexican guys. And unlike other nights when the Neufelds had visited and found the place packed with English-speaking ex-pats and the music was great, 'Bad Whiskey' only spoke Spanish. I heard the phrase 'blues acoustica' a few times. One guy with an acoustic guitar, the other one with a case full of harmonicas. I think the first song they played was an old Dylan song. Okay. Not exactly BLUES, but it WAS acoustic. A song or two later there was a Muddy Waters tune, and another by Eric Clapton. But mostly they played Dylan and Beatles songs. And then a Creedence song. And although the beers were pretty good, and the big semi-cooked hamburger I ordered was edible, when 'Bad Whiskey' played John Denver's "Con-tree Roads" we'd heard enough.
We took a walk down a couple of blocks down to the Santa Lucia square. Thursday nights are special there — a big stage, and bleachers and lots of chairs set up, for a weekly free performance of 'local' music and entertainment. And the square was packed! Mexican music. Accordions. Strumming guitars. Even a big band. We stopped to watch and listen for a little while. Then we went back to the Neufelds' place.
Before we got into our Uber for the ride home, we packed a couple of grocery bags of bottles from the Neufelds' fridge to take with us. With only one day left before they leave here, we were the beneficiaries of their 'over-buying' and were happy to help them out. It was a quiet ride home followed by a quiet walk from the superette to our place. When we got home we unpacked and stashed away our 'groceries'. MaryLou went upstairs while Dave and I sampled the Baileys before we too headed off to bed.