Monday is a holiday here in New Plymouth (Taranaki Anniversary Day). And it's cool and cloudy. Misty, even. That means another 'lazy' day for the Nikkels. Sitting around, looking at the internet and doing crossword puzzles. Waiting for the next meal or snack.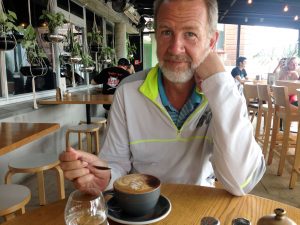 Are you still having fun? That's the question we've heard twice now in the last couple of days when we Skype with someone from home. Are we still having fun? Well, SURE we're having fun. We're healthy and happy and eating and sleeping and living and breathing. What's not to like? And although right now we're sitting in a one-room motel room, it's not like we're "on holidays". Holidays means a break from the usual, and getaway from ones 'boring' everyday life. We're not "on holidays" — we're just living our life in a different part of the world for a few months. What's not 'fun' about that? We know we're lucky to be able to do this. We know we WON'T be able to do this forever. We think we're learning something new about our world and the people in it. We know neither of us would be doing this ALONE, but we enjoy doing this TOGETHER. We know there will be 'rainy days' when I'll have nothing interesting to write about in this journal.
Speaking of which, it was cool and cloudy today. We didn't do much. We had another nice visit with Alex via FaceTime this morning. We went for a short walk this afternoon — which was cut even shorter when it started to drizzle lightly and we weren't wearing our rain jackets. So we went to Monica's across the street from our place and each had a lovely cappuccino. We followed that up with a long FaceTime call with Ed and Val, who are in Gold Canyon for a month. So now we know lots more about lots of things.
We FINALLY finished the big Free Press Christmas crossword puzzle that Sue had schlept along from home. And we watched the Sunday morning news talk shows and John Oliver on YouTube. Sue Scrabbled on her iPad while I diddled on the AppleTV until I somehow blew away my Netflix account. Now what are we gonna do every night? Oh well, if the New Zealand channels don't put us to sleep, we still have the CBC National News.