Up before the 7am alarm. A quick breakfast and then we started packing. I got the bikes and golf clubs into the car. Sue cleaned out the kitchen and bedrooms. We were done and ready to go by 10. The van was packed to the ceiling. And, just for posterity, here are a few last-minute photos of our place in Chaparral: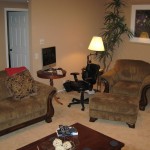 We closed up our place at Chaparral, stopped at the clubhouse on the way out to pay our tab, and headed out to Victoria Falls where we will stay for the month of March. Met Teddy, the owner. He showed us around the house, access codes, alarms, pool controls, etc. Very nice. We unloaded most of our stuff in the garage — Teddy and family will be moving out tomorrow morning and we'll move in sometime after lunch.
We stopped at McD's for lunch and filled up the van at the ARCO station. Then we turned south onto the Pines to Palm Highway — California State Route 74. And we climbed the zigzaging road out of Palm Desert. A great highway and a great little road trip. We stopped at a lookout point and chatted with a cyclist whom we had passed on the way up. By the time we got to the top the temperature had dropped from 28 to 14, and there was snow alongside the road.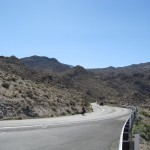 And then we dipped down into a big valley. We drove down to Escondido, headed for the San Diego Wildlife Park. When we got there we found out that they were closing in less than 2 hours — and perhaps we'd be better off visiting when we had more time to spend there. Probably not worth spending the admission etc for less than 2 hours. So we decided to skip it — and we headed back to Temecula, a town we'd never heard of but it looked kind of interesting when we drove through it earlier in the afternoon. We drove through a really cool part of the 'historic old town' with lots of little shops and bars and restaurants. At the end of the street was the hotel strip — we checked in at a Springhill Suites. We read a bit and then went down for their complimentary happy hour. After a couple of drinks we took a walk back to the main street. We decided on a restaurant and enjoyed a couple of curry dishes. Sue had baclava for dessert.


We walked back to our hotel and watched a bit of TV and I sorted through my photos from the day. My brother Walter skyped us — we visited a bit. And then I read and watched TV before calling it a night. Oh, and just in case I forgot to mention it, that little road trip today was a lot of fun for me.