Crepe Suzie made crepes and bacon for breakfast. And it's not even the weekend yet!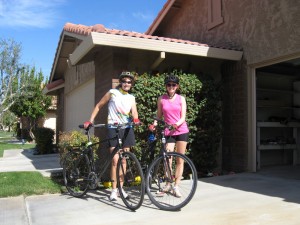 After breakfast the girls went for a long bike ride and the boys hung out at the house. Tim discovered a flaw in his new iphone's camera and took it to the local Apple Store to see if it could be fixed. They offered to replace the phone once Tim had performed a full backup, so Tim came back home to do that.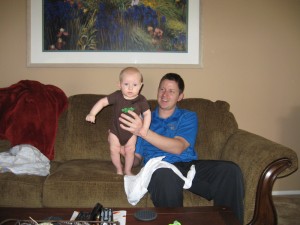 We had lunch out on the patio again. The weather was perfect again. The girls headed out to the pool again. The boys stayed home again. At around 4:00 the girls came back. We got ready to go out. At around 5:00 we were out on El Paseo with Max in his stroller. We'd parked our car near the California Pizza Kitchen and then walked the nearly half a mile to the Apple Store, all the while watching the parade of amazingly restored cars cruising the street. Cruiser night is every second Friday from 4:00 to 6:00, and there are lots of sightseers and photographers out on the sidewalks when the weather is as nice as it was today. Tim got his phone replaced and then met us at the pizza restaurant at around 6:00. The restaurant was full, and we got a table smack in the middle of it. Max sat in his car seat for a while, and on my lap for the rest of the time. He was content and happy despite all the noise and distraction of a busy packed Friday night restaurant. Our food was fine. We opted for ice cream at the Cold Stone Creamery instead of dessert at the pizza restaurant, and so we got into the van and drove around until we found the ice cream shop — which was in the Westfield Mall. Ice creams all around. Max enjoyed a ride around the mall in his stroller. A quick grocery store stop and then we went home. It was 8:00 here, which means it was 10:00pm back home. Tim and Alex skyped with Tim's parents — today was Tim's grandma's funeral at SMC in Steinbach. Max had fallen asleep in the van and went to bed easily. A bit of TV while Tim finished setting up his new phone. Alex went to bed. Then Sue. Then Tim. Then (after a too long journal update) Rudy.