Spent most of the morning cropping my photos from the hieroglyphic hike into those cool 'Arizona' web banners. I had to hurry my lunch.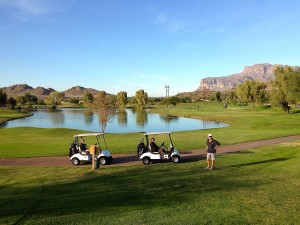 When we pulled into the parking lot at Mountain Brook Golf Course the Dycks' little black rental car with the Texas plates was already there. We putted a bit and then headed to the tee blocks. While Arlene looked for meaning in her book of word searches the rest of us looked for pars and birdies. Robert continued to quietly hit his drives down the middle. Rudy and Sue both finished the front nine with 50s.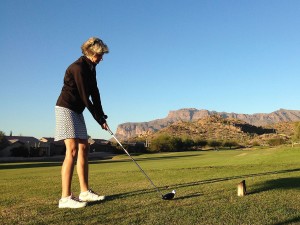 After the turn Sue cranked it up a notch. An amazing TWO on the par three 14th hole helped put her at 4 over after 7 holes on the back nine. Unfortunately things came apart a bit on the final two holes. Still, even with an 8 on the final par 4, she finished with a 46 on the back nine — and so did Rudy! We golf together!
After the game we all went back to our house for chips and G&Ts. Lots of visiting — so much that I neglected my duties at the barbecue and got the cheeseburgers a bit crispy.
After the Dycks left I promptly fell asleep in front of the TV. What else is new?