Got up a bit late again this morning. Since I'd fallen asleep watching Frontline last night I took the opportunity to 're-watch' it online this morning. Then I went downstairs and had a grapefruit. I was going to cycle to Bashas' for breakfast, but then I found the cherry fritter I brought home yesterday in the fridge. so instead I made a coffee and warmed up the fritter for my breakfast. Then I got on my bike and cycled down to Bashas'.
I bought a nice fresh kaiser bun and some shaved Black Forest ham and an avocado. I cycled back home (UP the hill) and made a couple of fine sandwiches for Dave and me. At a little before eleven I drove to the Phoenix Sky Harbour Airport to wait for Dave's arrival.
I waited in the cell-waiting area but the sign kept saying that Dave's flight from Vancouver was 'en route' — even though my phone apps told me it had landed. It turns out that the plane HAD landed but was on the tarmac for an extra 45 minutes while they waited for crew to help bring the plane in to the terminal. Eventually I got a text from Dave that said he had landed. I picked him up a few minutes later and we were back on the road, heading east back to Gold Canyon.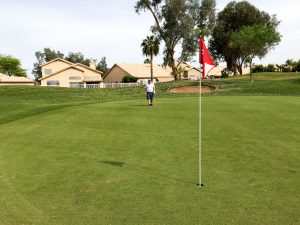 I decided that we might as well get our first golf game in, and since the Western Skies golf course had been so much fun a few days ago (and not busy) we turned off the 60 and headed south to the Western Skies golf course.
In a matter of minutes we were on the first tee and ready to play a round. My game wasn't quite as good as it had been a few days ago, but for the most part Dave and I had a pretty good round. After the game we sent a text to Robert and Arlene, who had made the trip from Palm Desert to Gold Canyon today — they were all set up in their RV campground and hoping we could have dinner together tonight.
They arrived at the house not long after Dave and I did. The Dycks brought steaks and potatoes and salad and asparagus. Robert barbecued the steaks so they were PERFECT and we sat around our outdoor patio table and enjoyed a very delicious meal together.
We sat around the outdoor table for the evening and reminisced about the 'good old days'. The Dycks went home at around 10:00pm. Dave and I watched a bit of Colbert and then called it a night.
Tomorrow we have a reservation for a tee time at the Las Sendas Golf Club for just after 2 o'clock. Looking forward to it.