A lazy day at home. We needed to rest our bodies from all that walking yesterday. Plus, it was VERY hot here today. Sue did two loads of laundry. We have a great washer but we rely on a collapsible clothes rack and the African sun on our balcony to dry them. Today was a good day for that!
Then Sue went to Giovanni's to get some sandwich meat. I took the car to the gas station for a fill-up. You don't do self-service gassing up here; no, the gas jockey here welcomed me with a smile, filled up the car, washed all the windows, checked (and filled up) all the tires, popped the hood (bonnet?) open and checked fluids and added water for the windshield washer! That was worth at least a two-dollar tip!
When I got back Sue was busy composing another long email to friends — it's the only way she gets emails back, and she craves those emails and the contact from home. So lunch was served closer to 12:30 than my preferred 11:30.
After lunch Sue cleaned up a bit and read her book (finished reading "They Left Us Everything" by Plum Johnson) and I worked on a website. I downloaded a couple of biographies for Sue — now she's reading "Long Walk to Freedom" by Nelson Mandela.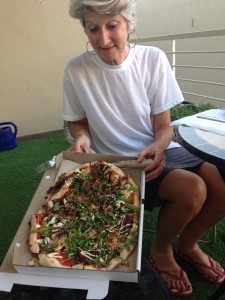 For supper I went to pick up a 'Safari' pizza from "Big Route" just around the corner and we ate that out on our balcony. It was still plenty warm outside, but there was so much action going on out in the street we just had to sit and watch. I think there must be some big rugby tournaments or something like that going on here this weekend — a plane pulling a long 'Mavericks' banner has been flying around above the stadium all afternoon, and we've seen quite a few 'teams' of big handsome jocks marching down past our apartment on their way across the street to the stadium.
We were finished supper when we got a text: Robert and Arlene have just landed at the Cape Town Airport — they will call us when they've checked into their B&B, just a couple of blocks from our place.
It was around 9:30 when I met Robert and Arlene at their place. We walked back to our apartment and had drinks and heard a little about their safari adventures. We still have a lot of 'catching up' to do. We also talked about some options for what to do for the next few days before we leave for Namibia. At 11:30 they walked back to their apartment. Sue cleaned up the dishes while I wrote my journal.