Alarm at 6. Out of the apartment by 7. Tee time at Rondebosch for 8:05, but we were off on our first tee by 7:30. Great weather. Great conditions. That new pull cart I just bought from Basil is great! So once again it's just Sue and me on the course. Some good shots. Some GREAT shots. And unfortunately, too often it was just plain too MANY shots. But fun. We were done by 11:30, home for lunch just before 12. I entered our scores — not our best game! But lots of fun. Can't wait to do it again. But I hauled our clubs and my 'new' pull-cart upstairs and stashed them in an extra closet — Won't be needing them again until late February when we come back here.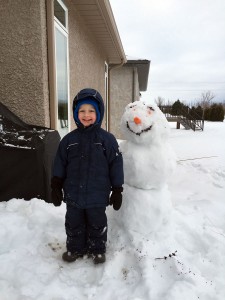 After a short after-dinner nap we walked (did I mention we WALKED 18 holes this morning?) down to the big fancy 'Checkers' grocery store down in Sea Point. Another 4km walk. My feet can't take this! We used our bus cards to take the bus back to our place. We were just home when my phone starts ringing the FaceTime chimes. It's a call from Max and Alex, wanting to say Good Morning! Talk about a kid that's just ALWAYS HAPPY. My mom would say, "Immer Frölich, immer frölich, alle Tage Sonnenschein." Yeah, I think Max probably wrote that song. Here's a photo we got a from last weekend when he and his parents built a snowman on our back deck.
Anyway, it was great to FaceTime with them. I'd received a email from my mother, so I decided to give her a Skype call. Dad had just gone for coffee but Mom was home and happy to talk. They are doing fine. She had just heard that our friend Mary Ann's father, C. Wilbert, had passed away. We told her we'd had TWO emails like that yesterday — the other one was from Noreen, letting us know that Ron's father had died. In the last two weeks three of our friends' parents have passed away.
I had just hauled out the vacuum cleaner and was doing the 'once-over' when my phone ringtone sounded. Phone call from Peter. We gave him a bit of a report and went over a few things about the car and the neighbourhood. Then at one point Peter tells us that whatever our plans for tonight are, we must cancel them — it's "First Thursday" today, not just in Cape Town, but even in Toronto! Well! What's First Thursday? On the first Thursday of every month, people in various cities around the world go out and explore art galleries and cultural attractions all evening for free. You get a map and you trot from one gallery to the next, and sometimes you even get a glass of wine and something to eat, and that too is often free. And by later in the evening it just turns into a giant street party. According to Peter, we MUST see this. So I look up to see where in Cape Town this is taking place and how to get there and soon we are up behind our house, on High Level Road, waiting for a bus to take us to Bree Street. And eventually, a bus DOES show up and takes us to the 'happening' area. LOTS of people out. We don't even need a map to show us where the next gallery on our 'tour' is — we just look for people spilling out of a building, usually with a glass of wine or a beer in hand — that is where the next stop on our tour is.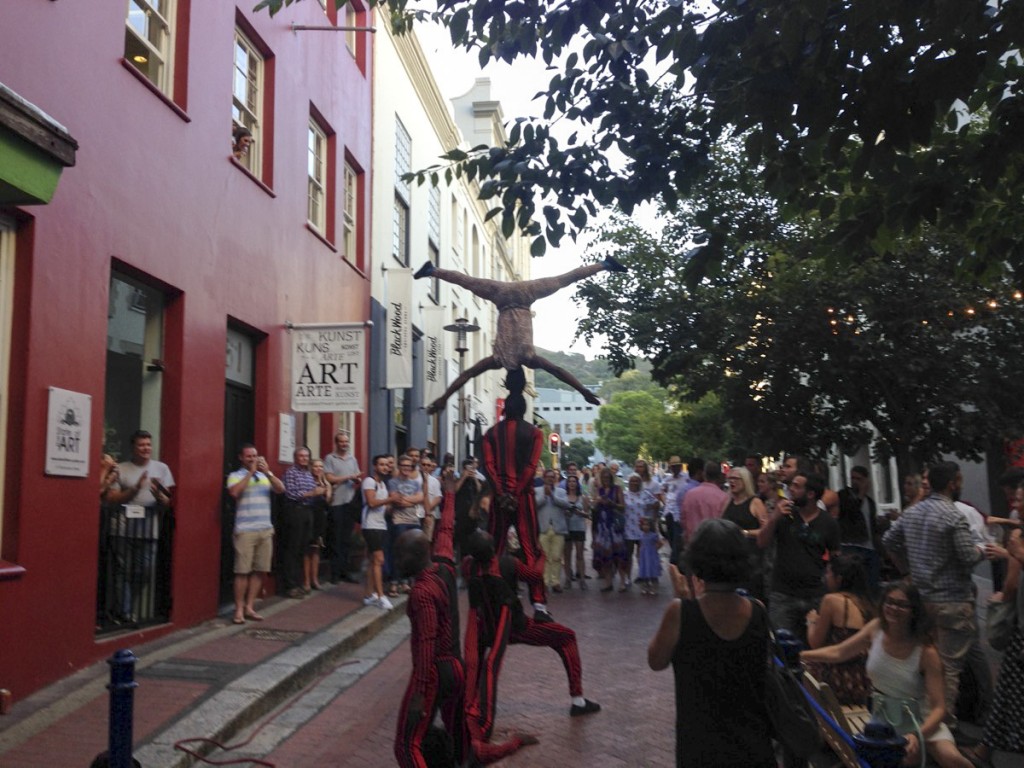 We ran out of energy. Yeah, it was nice to walk into some of the art galleries in downtown Cape Town. And MY GOODNESS there sure are a LOT of people milling about in the streets – and there sure are a lot of VERY ATTRACTIVE YOUNG people milling about in the streets. This could be a really fun party, but right now Sue needed to eat something. So, with all the quaint little cafes and shops now completely packed, overflowing with all these beautiful people, what were our options? As we were walking back towards our apartment, away from the busy centre where all the action was, we spotted a 'Simply Thai' (chain) restaurant with a couple of empty tables outside. We're eating here. We got a table and ordered a couple of spicy noodle dishes. Just what we needed.
After wandering around the streets and looking at some of the venues, we were tired and ready to head back. How? Uber? Taxi? Bus? How about we just walk? So that's what we did. Walked all the way back to our place. My feet were ready to fall off, but not before we'd at least stopped at the Gelati place near our house for a Snickers ice cream. Back at our apartment Sue sat outside on the balcony for a while. I started to write my journal.
We were exhausted. It had been a long day, quite warm, and we had surely walked our quota of footsteps today. Sue was ready for bed; "Good-night" and off she went. I finished my journal entry and then looked for a place to make a U-Turn.
Okay, that is the SECOND ridiculous thing I've written tonight (I already deleted the first sentence, something about "packaging" — huh?). I don't know where that came from! But I just 'woke up' and read what I'd just written — a U-turn? — that makes NO sense. It's time for me to go to bed too. Good-night.