Woke up in our lovely hotel suite. Had a lazy start. No rush today; we've only got four hours of driving and then we're 'home'.
Went down for a big waffle with peanut butter. Another coffee. Back in the room I did my best to argue with some 'Pete' in the Philippines about my TracFone — and was told that no, they no longer offered the 'friends and neighbours' option for Canadians. Was on hold for over an hour, with TERRIBLE music playing way louder than the occasional operator announcement. Finally gave up in frustration. I was really pissed off.
Shortly after 11 we hit the road. Sun was shining. People in short sleeves. Got into California. Stopped at a little car wash and washed the van. Drove a bit more. Surprising how much traffic there was on the road today — lots of motorhomes, lots of semis. Busy roads. Temperature around 11 degrees — but it's supposed to warm up in the next few days.
Got to Indio, not far from our Palm Desert destination. Went to a Jack-in-the-Box for lunch. Big casino here. Kind of depressing. Had a bad feeling about where we were going — maybe we should have booked something in Phoenix instead, where everything was safe and clean?
Filled up the van one last time. Our rental was effective at 3:00 pm — we would arrive shortly after that. Turned off the #10 highway into Palm Desert. Everything is green. Clean. Developed. Neat and tidy. Okay, maybe this will work out okay.
Went through our Country Club entry gate — told them we would be renting for the next 2 months and they let us in. Found our house. Went in. Pretty nice. I think it's better than what we expected. Lots of open space. Big rooms. Lots of light. Everything is new — never been used before. We unloaded the van. Carried everything in from the garage. I'll put the bikes together another time. Golf clubs need to be sorted and put in the bags.
Not so sure about golfing our course — we watched one old guy hit 3 balls off the tee, and one nearly hit us on our patio! i think it is a very tough course.
Sue started a grocery list. We logged onto to our network. Sue checked her emails. And got this:
From: Castaneda, L
Time: 2:17 PM (5 hours ago)
Hello Mr & Mrs Nikkel
This is Ofc Castaneda, please call me. I found your purse. 505-123-4567
Are you serious? I called. Left a message. We got into the van and went for a ride, shopping for groceries at the Albertsons on Hwy 111. Took us two hours and this is just to tide us over for the next day or two. It gets dark really early here. At 5pm it was pitch black outside. Drove around the area a bit. LOTS of shopping here. Quite nice. Quite different from Arizona — green and developed and we are more like right in the middle of a city — not as remote. There will be good and bad things about that.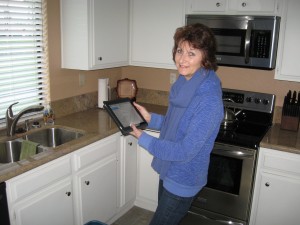 We came back to our house and I called the number again. The officer answers. Yes, he has our purse. No cash, but EVERYTHING ELSE is in there! Unbelievable. We arrange to have him Fedex it to us here. Amazing.
We sit in the living room and can't stop discussing this turn of events. Quite the way to start off the holiday. Quite a way to start off the new year.
We watch a little news on TV. The furnace is making the place nice and warm, just what Sue wanted. The furniture is very nice and comfy. We skype the kids. We eat our faspa. We have a celebratory beverage or two. It's a great day.
I unbox my computer and we move a little table from one of the guest bedrooms into the living room. I put my old office chair together and set up. It works. Everything works. Well, not that dang TracFone. But now we'll leave that for another day.