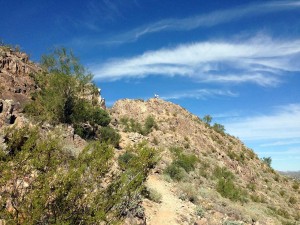 After breakfast we picked up Robert at the motorhome and headed out to Silly Mountain for a hike. Another nice day here. We had to hurry our morning a bit because Robert and I were going to join Ed and Art at Mountain Brook for a 1:15 tee time.
After our hike we headed out to Apache Junction to the Fresh Fruit Market to do a bit of grocery shopping. Then we skipped the trip to the grocery store and hurried back home to have lunch and get ready for our afternoon golf game.
Sue went to the grocery store and then to visit Arlene in the motorhome in the afternoon. The boys golfed. Started off not that great, but by the time we got to the last two holes we had shot some good holes. And by the time we got to the last two holes it was getting quite dark, and quite cool. Jackets came out. If we'd packed flashlights we might have hauled those out too.
Robert headed home and I joined Ed and Art for the walk back to Ed's place for supper. Sue was already there — actually, she was there BEFORE Val and Wendy got back from their own afternoon of shopping! We had a fine supper with the Peters couples — and I probably overdid it with my tale of 'almost sailing'. (Art and Wendy are planning to go sailing in the BVI this February. Robert and Arlene and the group are going in late December. Seems like we're the only ones NOT going!) We got home just before 11:00 and after a bit of channel surfing we went to bed.