Yeah, that's what popped up on my calendar this morning. Happy birthday, Robert. Time keeps on ticking, ticking, ticking, into the future…
After breakfast I worked on a web project for a bit. Then I went outside and weeded the yard. I booked a tee time for myself for the afternoon. Sue and I did a bit of personal hygiene — Sue now has stunning toenails and my facial hair is trimmed so I look neat and tidy.
Sue made a spectacular (the usual) lunch. I watched Holmes on Holmes 'do it right' to an old house on TV. Sue tied up the phone for most of the day, trying to get MTS to schedule reconnects at our house for when we get home in a week from today. Dealing with MTS — that is an opportunity to practice patience and grace.
Around 2:10 Sue woke me up — I'd had a little snooze while Mike Holmes had completely redone the electrical, plumbing, and heating system in some poor lady's house! And now it was high time for me to get to my golf tee time at Apache Creek. Sue was going to stay home and clean out the kitchen cupboards while I went golfing 'by myself'.
I got the course at about quarter to three. Went to putt a bit, but quickly joined a couple of 'Minne-sodans' who were set to tee off. Mark and Lee were both pretty good golfers. Lee teed off from the blue tees. Mark, who had had his knee replaced just before Christmas, joined me at the white tees.
Hole #1: I drive the ball straight and far (a good combination) but fail to capitalize and finish the hole with 3 putts — a six. Hole #2: Second shot into the bunker, from where I bash at it 3 times in a row before it finally jumps out onto the green — a seven. Hole #3: 3 putts for a seven. Hole #4: under bushes and over trees — a seven! At this rate I'll shoot a 63 on the front nine!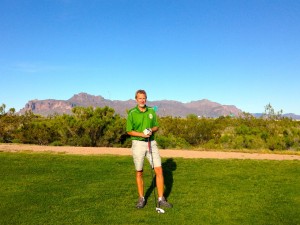 But I bear down and get things under control. I finish the front nine with a par and a birdie, for a score of 47. Not good, but not horrible.
I improve on the back nine. I par the first two holes, bogey the next two. I finish the back nine with FIVE PARS! for a score of 41. Total score is 88! That's GREAT for me! (Anytime I break a hundred is good for me.)
I'm home by 6:45. The sun is setting — it's all pink and purple on Superstition Mountain. Sue is sitting outside on the patio, Skyping with Alex.
After (another super delicious!) supper, it's time to watch a bit more TV — tonight we'll make sure to watch the 'At Issue' panel on the CBC National. We've got to get all caught up for our imminent re-entry into the Canadian lifestyle.