And now, O Lord, for what do I wait? Psalm 39:7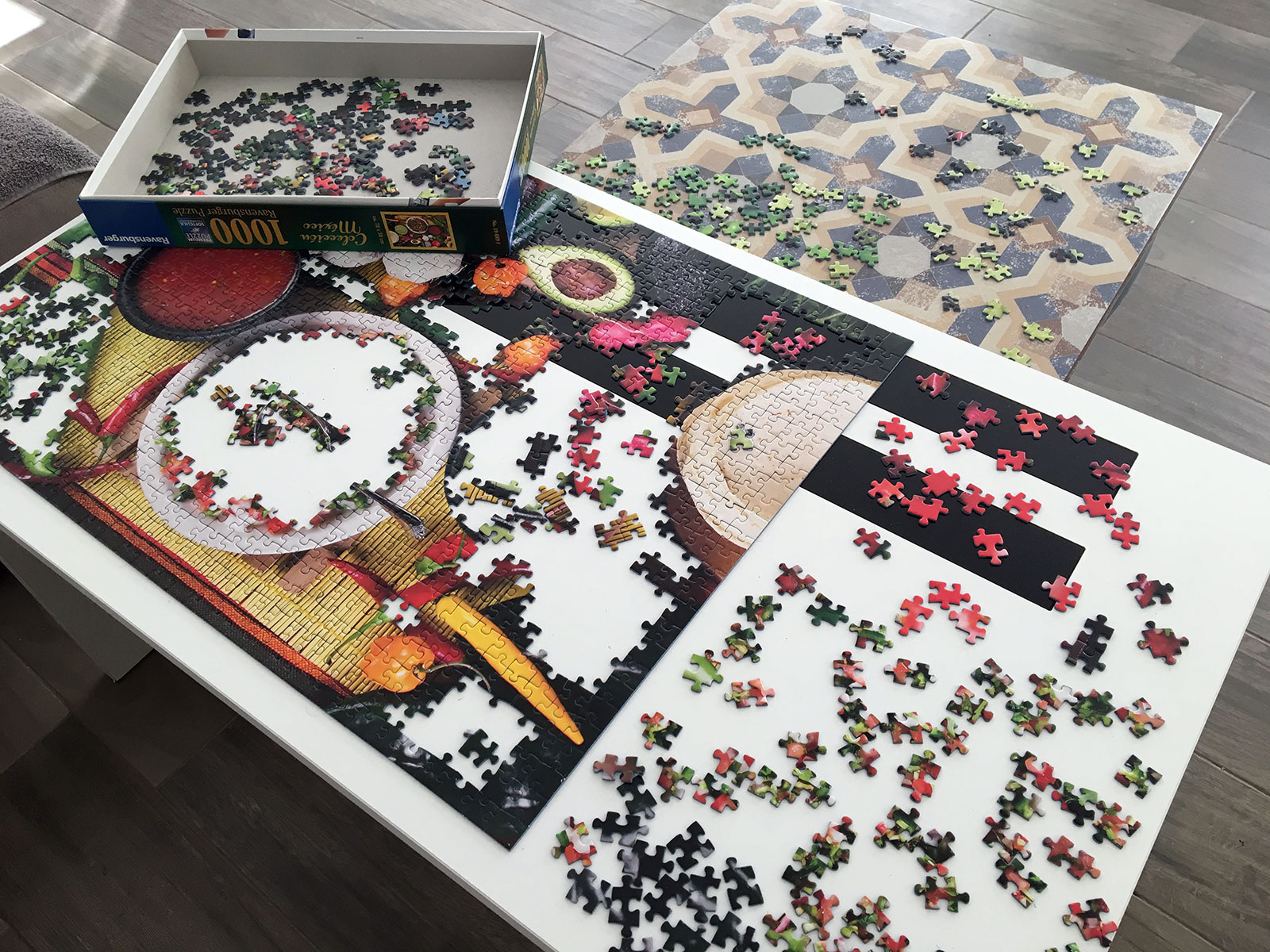 Saturday. Bacon and eggs day. Another lazy morning. For Dave this is typically a New York Times crossword puzzle day. So far we've been unable to find a place that sells the New York Times here in Merida. I brought a book of Sunday puzzles along from home, but until this morning Dave had been unwilling to do "an old" puzzle. While Dave worked on puzzle number one, MaryLou was getting close to finishing the 1000-piece puzzle she'd bought for her and Kaaren to do together. I made two small pots of coffee before walking to the mini-super to pick up fresh bread and a couple of bananas. When I got back I fried up a panful of bacon and a couple of eggs and made myself some toast. Dave and MaryLou each cooked up their own eggs and joined me at the table.
While I cleaned up the dishes, MaryLou headed off to the gym and Dave went back to his crossword. It was getting hot. The forecast was for overcast skies and possible showers starting at 2 o'clock. That would be a nice change!
The Neufelds arrived a little after one. This morning they had said farewell to their guests, Dave and Deb, who had taken the bus back to Cancun and are flying home from there tomorrow. Kaaren and MaryLou got right to work on that big jigsaw puzzle while the boys went to the golf course. We had to wait for a while at the first tee — the guys in the two golf carts ahead of us were learning how to golf. We asked the starter if we could jump ahead and start at the fourth hole, but he said that only the two guys would be golfing, that the woman was just riding along. So we stood and waited. And waited. And it didn't get any better. By the time we'd putted out at hole number three we'd had enough. We skipped number four only to catch up to another slow group a couple of holes ahead.
By the time we were halfway through the first nine those clouds that had been forecasted appeared. That helped to lower the temperature a bit and made for a very pleasant afternoon. The golf course marshall came around at hole eleven where we were once again standing and watching two couples ahead of us giving each other golf lessons. The marshall pulled them off to the side and motioned for us to play through. Nice.
After the round we had a quick beer at the clubhouse. Then we went back to the house and discussed supper plans. We took two Ubers to the Italian restaurant where my new neighbours had taken me when I first arrived here in Merida. I had called ahead to make a reservation for five but when we got there we were the only customers and we had the big outdoor patio all to ourselves! So we had very attentive service from the five waiters who watched us from the bar. The food was good, the conversation even better. Dave ordered a tiramisu and five spoons for dessert. Then we called up two more Ubers, one to take the Neufelds back to their place in downtown Merida, and one to take the Driedgers and me back to La Ceiba.