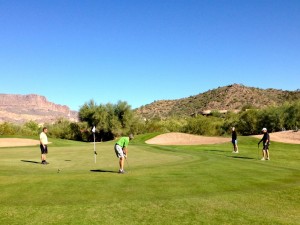 It was cool here this morning — too cool for a bike ride. So we went for a long walk instead, all the way to the end of Sleepy Hollow and back, about 1.5 hours. We got home just in time for lunch; we had a 12:30 tee time at the Sidewinder Golf Course just across the street from our place, and we need to be at the course by 12:15. Arlene was already well into her wordsearch by the time we'd loaded our clubs into the cart. We hit a few balls on the driving range and then we were off.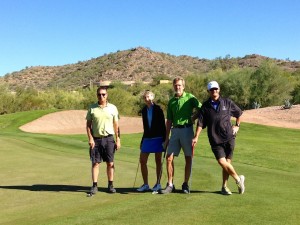 Once again it seemed that all my best shots were wasted on the driving range — or maybe it's just that the driving range doesn't have one of those little holes that you're supposed to get the ball into. Or maybe it's just that I'm not half as good as I think I am. Well, for sure I should NOT be trying to hit the ball out of the gravel.
After golf Val joined us and we all came to our house for happy hour. We were going to all meet at the Mexican restaurant behind Bashas, but when we got there we realized they are closed Mondays. Oh oh. Well, how about the Hitching Post?
Hey, they were open and they were busy! We really couldn't even hear the two NFL games on the TV because the table next to ours was SO LOUD! To add to the din in the room, a young Stevie Nicks wanna-be was trying her best to 'entertain' from the corner. We washed down our food with a couple of pitchers of Arizona 'Kilt Lifter'. Robert told us about how he got to be in the restaurant business. By 9:30 we were back home — and too tired to watch the news.