Sue, who woke up at 5, had to make coffee twice this morning — the first cup tasted awful. I guess you need to dump out the filter basket every once in a while so that the next time you try to drip coffee through it some of the water will have some coffee flavour. Soon the house was awake. We didn't watch our regular Sunday morning TV shows. Breakfast was eggs and toast. Sue and Mary went for a walk around the neighbourhood. Naomi read her book. Simpson and I visited outside in the shade of the gazebo. It was going to be a hot day today!
By the time everyone was packed up and ready to go (the Lee Wings are heading back to Phoenix today) it was time for lunch! We had sandwiches outside. After lunch Sue and Mary yelled into the phones at their mother while Simpson tried to watch a rerun of LA Law on TV.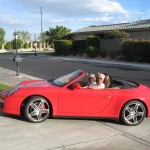 Once the Lee Wings said goodbye it was time for Sue to do laundry. And make beds. I was sitting at watching a bit of golf on TV when JP called. They are leaving for Phoenix tomorrow morning! And they were busy for supper. But they had time to go for a little drive and come see our new place. I met them at the gate to let them in as they drove up in their hot little red Porsche.
Jim took me for a ride around town in it. We had a drink outside — more of Sue's freshly squeezed lemonade from our own lemon tree — and then the Peters too were off.
Alex and Max skyped for a bit before supper. They had just come home from a shopping trip to Winnipeg and Max wanted to show off his new high chair. Sue made supper and we watched "60 Minutes" on TV. We tried to watch more TV after that but we took turns drifting off — until 9:00 when we decided to 'finish watching that show' in the bedroom. Z-z-z-z-z.