Although we had sort of talked about going to see The Living Desert today, we decided at the last minute to go there by bike. I checked the distance and it was an easy 15km ride each way. I pumped up the rear tires on each bike and we were off. Some golfing friends had highly recommended the park to us — in fact, they suggested that we'd be hard-pressed to see it all in THREE days. They had even bought annual memberships so they could keep going back. Well, with only 3 days left here in Palm Springs, we decided we'd better go check it out. Our golfing friends had praised the 9:30 Nature Walk and the 11:00 Wildlife Wonders Show. We had to hurry a bit to make it to the park by 9:30, but luckily for us the ride there was mostly downhill. We arrived at the park and chained up our bikes. We were pretty sweaty as we stood in line to get our tickets. We went through the gates just in time to join the Nature Walk. Well, for a few minutes it looked like we were the ONLY ones on the Nature Walk. But a few others gathered around our tour guide and when we departed we were about 10 people in the group. The guide took us down the pathway and sat us all down in a circle at a rest spot and handed out laminated booklets. We all introduced ourselves (more Canadians again) and then he began his lecture. He told us that his style would somewhat 'academic'. He talked about deserts, about rainfall patterns, about tectonic plates. At one point he asked the young kids who were sitting there looking bored why they weren't at the giraffe feeding — wouldn't that be way more interesting? Finally, after about 15 minutes of going on and on about the average rainfall in Palm Springs, we were off. Not so fast! We're about 10 feet from the introductory rest spot. Let's just take a look at this palo verde tree. Why do you think it has green bark? Well, they do photosynthesis. And so on. And on. And on. And then, when everyone in the group is gazing down the path, hoping that this guy will stop talking and start walking, the lady from Victoria who dragged her husband away from his bike ride to join her for this informative nature walk pipes up with a question. Good question!, announces the tour guide, and off he goes on another explanation. And that's how it went. I whispered to Sue that I was NOT going to make it for the full hike and that she was free to join me in breaking away with the next big field trip group when they filed past us.
[symple_divider style="solid" margin_top="20px" margin_bottom="20px"]Next, we stopped to look at some animals.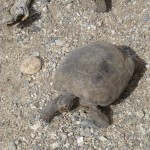 And what animal did we see on our first stop? A couple of turtles pacing their cage. I know turtles can be slow and boring, but these two were just zipping back and forth along the cage. And the tour guide, whose approach is even slower than a turtle, launches into another 'academic' lecture.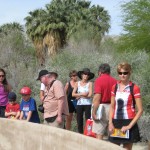 He goes on and on. And Miss Victoria (obviously a retired 'educator' — you can just tell this by looking and listening to her — does her best impression of Susan Wiebe at a SMC congregational meeting by asking question after uninteresting question. She enunciates every word and makes sure that each sentence has a subject and a predicate. I'm starting to gasp for air. I need to make a break for it. I point my camera at an imaginary butterfly and follow it away from the group until I'm out of sight. Whew! I check out some more of the displays, a big puma, some african deer, and finally end up at the amphitheatre where the Wildlife show is supposed to stat in 20 minutes. I sit and watch little schoolkids on a field trip fill up the bleachers. A couple with their two kids come sit down beside me. I look at the mom, she looks at me — hey, these people were in the morning Nature hike — and she says 'hey, you escaped too!'. You mean it wasn't over yet? No, but we couldn't take it. Where's your wife? I guess she's still listening to the talk. But just before the show was to begin, there comes Sue — was it over? no, not yet, but I had to leave. The guide was bad but that Miss Victoria was W-A-Y worse! We watched the animal show, an impressive eagle and some furry animals too, and then we left. We both agreed that we would pass on a visit to 'The Ant Lab' or any of the other displays — we were done, ready to go home.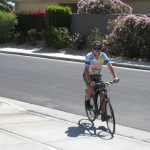 So we got on our bikes and cycled back to the house. Had lunch. Showered. Skyped with Max for a few minutes. Then Sue went outside to read and I went to my room to compute.
We had happy hour at around 4pm and I lit the barbecue at around 6. Chicken and potatoes. Watched the news. Skyped with JP. Then at 7:30 we drove down to the Palme d'Or to see a movie. Not too many people out for 'the late show'! No problem finding a parking spot here after 7pm! Our movie was 'Lore', a German movie with subtitles, all about a Nazi family after the war. The movie was very well done — and very sad. We got back on the empty streets at 10pm and looked for a place to get an ice cream. Nothing's open. Oh well, let's go home and you can have ice cream there. So that's what we did.